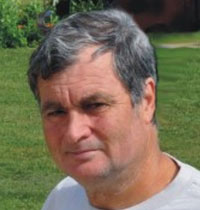 Peter Wood was born in Wiltshire, England, 6/6/51, the son of an R.A.F. family. As a child he traveled widely, including Singapore and the Far East. After boarding school, Colleges of Further Education and Technical College he was accepted for Hons. Degree at Camberwell College of Art, London. From there to Brighton University for his Post Graduate Teaching Qualification and then to his first teaching post in Hornsea on the East Yorkshire Coast. His next post took him into the private sector as Head of Art, Craft and Technology at a school in Essex, then, after six years he returned to the state sector, a brief one year contract at Grimsby and then took early retirement after his final five year post as Head of Art, Craft and Design at a High School in Suffolk. During this time he had also become qualified as an Advanced Clay Shooting Instructor, Archery Leader, Ski Leader, Canoeist, and Sailor.

His skills now encompassed teaching all of the fine arts, drawing, painting in many mediums, ceramics and sculpture, woodcarving, mixed crafts, computer graphics and more. His interests also include a wide taste in music, he makes and plays certain folk instruments, cooking, swimming and angling, natural history, photography and travelling. His early retirement marked the start of a new life. He became single again, after 18 years of marriage, traveled a little and then settled in a little fishermanís cottage on the coast at Bridlington, East Yorkshire. He was now able to concentrate on his spiritual and creative growth and has developed his writing of poetry, novels and short stories as well as his painting and craftwork. This has proved successful and he has had over twenty articles in National and International Magazines on his work and Travels, plus Art Residencies in Savannah University America, Burton Ages Hall (a stately home in Yorkshire) The National Sealife Centre Plymouth.

His Paintings have been exhibited in major Galleries including The Ferens - Hull, Spencer Colemanís Ė Beverley, Alan Stuttle - York, Marlborough in Wiltshire, three one man exhibitions of both his Paintings and Ceramics at Sewerby Hall and a joint two man exhibition at the Marlborough Gallery in Blenheim, New Zealand. He has also exhibited in Galleries in Norfolk, Suffolk and Essex, and has had work accepted by the Royal Academy. After Painting trips to Switzerland, America, and New Zealand has had work in a major Savannah Gallery, and the Taylor Jensen Gallery, Palmerston New Zealand. The International Artist Magazine has featured three articles on his work during 1999/2000, and the Leisure Painter a further two in 2001, two more in July and August 2002, and one in July 2003. The Caravan Club of Great Britain an article on painting in Scotland and the Society of Amateur artists have used instructional articles. Artist and Illustrator have comissioned two articles for 2002/2003. He was Resident Artist at Burton Agnes Hall for July 2000, 2001, 2002, 2003 where he not only exhibited and painted in the grounds but based a video and an article on the work produced. A four panel work of the grounds was sold and the proceeds donated to the hall. A large gold leaf bordered polytych oil painting has been accepted into the Hallís artist's in residence collection.

Further videos have been produced painting In Portugal, France, Scotland, The Hebrides, Plymouth, and Spain. He is happy to demonstrate painting, do slide shows, or run workshops in nearly any medium for any ability or society and has done so throughout the country and abroad. Peter began a new stage in his life. Having sold his home in Yorkshire he purchased a delightful and most unusual home, next to a river Lot, in the South of France where he set up his studios / gallery, and had a wonderful 7 years. Please see the pages on the supporting website dedicated to that project. In 2010, mainly due to family needs, he sold in France and has moved back to England, now residing on the north east coast of Lincolnshire at Theddlethorpe. Again, pages will be developed about this on the artanglingbreaks.com site.