WAS THRILLED WITH ALL I LEARNED DARLENE
I WAS SO EXCITED I GIGGLED O.L. SUSAN
Thank you, SO much! I am learning so much from your videos.
You are clear in your explanations and you provide concise information and great visuals.
Thank you for sharing so that others of us can develop our gifts and follow our dreams.
Sincerely,
Holly
---
I am writing to thank you for your video courses. I work full time as a teacher, but have the summer's off. I was trying to find an art course to take for illustrating children's books. I couldn't find anything and the city schools were not willing to take on a summer student. When I searched YouTube, I had found your videos which were a breath of fresh air. They were exactly what I was looking for, and since I often wake up at 4 AM, I could watch them while everyone else slept!
I love your use of color and your composition as well as your unique characters. I feel that I have learned a lot from your video tutorials and I'm attaching my tree/crow picture inspired by one of your tutorials. I am excited to reach my 10,000 hours, but since I do this as a hobby, I think that it will take some time. :-)
Thanks again and happy painting!
-Cheryl
---
Hi,

I am sorry to bother you, I know you are extremely busy, but I just wanted to let you know that I bought your course yesterday and have already learnt so much.

I have attached my first sketchy-sketch of the bug from the course, for no other reason than to show you that a novice illustrator can take on board what you have said and come up with something the day after.

I know it's nowhere near right, perfect or finished - I drew the outline in Photoshop to save time - It only took me as long as the course but I am already on my way to clocking up 10,000 hours. ;o)

I will be purchasing the "how to illustrate children's books" soon to continue my new journey.

thank you for your hard work and dedication to the craft.

Kind regards
Pete

---
Thank you so much for the training videos. I am amazed at the amount of information you shared and for such a small price. I was thrilled with all the things I learned and how you explain everything just like I was in class or something that you were teaching one on one. You have blessed me so much and I wanted to bless you (well really your wife) as my granddaughter Ally and I make this fused glass jewelry and I thought your wife might enjoy it. So I am enclosing two necklaces. Also enclosed is a check. Someday I will get your video on how to illustrate children's books. I will have lots to learn just trying all the things that are on this video on painting. May Jesus fill you home and family with His Love. Thanks again, Darlene.
---
I found your site today I was so excited that I giggled out loud and immediately signed up for a class. thank you, -- Susan Fitch
---
You must be psychic. I was drooling over your further options the other day and thinking of buying another! Anyway, this offer is great. Couldn't decide between four of them so for now I have bought iPad and digital inking and would like you to add Town and Country. . . I would want Fifth Element as well, since I bought two. But in any case I will be back for more eventually. You have completely reawakened my love of art and each day sees me sketching and painting whether on iPad, paper or iMac with Photoshop or Artrage or Brushes or whatever, and my life is improved. Thanks!
Eleanor Patrick
---
In the past, I have done your "How to Illustrate Children's Books" and not only enjoyed it but benefited greatly from your instruction. Keep the courses coming as you are providing excitement and insights to many other artists and would-b artist.
Cheers,
Ed Marshall
---
Since I have been introduced to you, and your art, I have grown as a person, and artist, by leaps and bounds. I am so happy and excited about my future I can hardly stand it. So, I purchased 3 of your videos -- and -- I'm realizing wonderful results. Regrettably, I never had the chance to attend art school; however, I feel like I have because of your instructions. I kid you not, I hear your words all the time, even when I'm at my 9 to 5 day job. I even listen to your videos when I'm not working in the studio; like when I'm ironing and stuff...LOL!!!
Keep going, We are ALL being elevated by your social contributions.
Love you, dudes!!!
---
I have always been interested in learning to draw, and your site looks great. ~Jessica
---
When Folio Academy approached the army, [me and my students] and asked us to review their art lessons, I have to say I was intrigued. I am a terrible artist, but I have always wanted to learn to draw. Folio Academy lets you learn what you want, when you want, and in the privacy of your own home. I wanted to see just how good these guys were so I set up a little challenge. The Tech Monkey's birthday party was coming up so I thought if these art classes can teach a bunch of pubescent boys how to draw then they MUST be GOOD. We told all boys to draw a picture of a monster before they came to the house for the party. This would give us a starting point for how good or bad each of them were at drawing to begin with.
So then I started the video for them to learn to draw. The first cartoon was a dinosaur. The 12 and 13 year olds kept up pretty well but all of them said they wished he would have stopped and given them little pauses to keep up. The nine year old ( Airborne) struggled to keep up. But they were all completely involved in what was being taught. Each picture was about 6 1/2 minutes long and the total time for all the pictures was 75 minutes. We drew the dinosaur, Frankenstein, and one alien.
By the time we got to the last drawing everyone was struggling to keep up. It would be nice to have had the option to do two steps and pause. We ended up pausing the video ourselves several times to catch up. But the end result was AMAZING. Each of the boys drew almost exactly what the instructor had drawn. They all felt that they had learned something about cartooning and they all said that they would be interested in trying some of the other characters at another time. I am sure you are wondering just HOW good were the results. Well the best results by far came from Airborne. His before picture looked like Plankton from Sponge Bob Square Pants. But his Dinosaur was looked like the cartoon that was shown by the artist. All of the boys produced a great product. I had them hold up before and after pictures. It is hard to see since we drew in pencil but they each REALLY improved. ~Michelle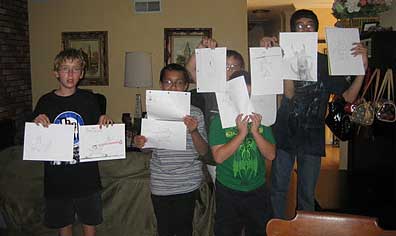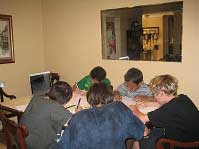 ---
If a bunch of kids can improve this much in 15 minutes you can imagine what you could accomplish in a couple of weeks. There are courses in illustrating children's books, portraits, beginning drawing, and 27 more titles covering every type of drawing you can imagine. The prices range from $9.99-$29.99. If you or your child is interested in drawing or if you home school, this is an amazing product that will help you develop as an artist in the privacy of your own home.
When deciding on this product as FAD or FAB I have to go with FAB! Great Price, easy to use, and really works. What a great PRODUCT. ~Michelle
---

Thanks
I have enjoyed your first Photoshop video and your blog. The information you offer has encouraged me get back to my creative work after many years of being a full time mom. I'm sure I will be purchasing more of your videos.
:) Tara


---
I purchased both your digital painting videos and your color video and I just have to say.....you are awesome. It's really funny how you can struggle with something for years (5 years for me) and then it just takes some one explaining it in the right way for it to click. For me your color video was the bomb shell that hit me. I've struggled to understand color theory and I could never wrap my brain around it. But you explained it so well it was like a light bulb turning on....I get it oh, my Gosh I finally get it. After watching your color video I painted the attached illustration and difference between it and my earlier works is just vast the color is so much more vibrant and I've already had some comments where I posted it on my blog about how wonderful the color looks. Again thanks so much for making these videos they where well worth the money.
~William Palacio
---

Hi,
I wanted to say thanks. My name is Russ Charles, and I teach in a primary school in the UK, called Malvern St James. Recently, I have been using your videos with the children I teach. The foundation for an art club that I have run. Although the girls I teach are very young, five and six, they have loved the videos and coped really well with the early lessons in particular.

This has enabled me to identify a couple of girls who have a talent and passion for drawing that really stands out, and I have been able to share this with their parents.

It has also inspired me. I come from a background of children's art, as I was raised by my grandparents who both illustrated children's books for a living. I never pursued this myself, but I am a long time casual cartoonist and I know my way around Photoshop thanks to dabbling in 3d modeling.
Thanks, Russ


---

Hi Will,

You don't know me but I wanted to say thanks. I've now purchased your e-books, Tickle Bugs, Monkey and Croc, Pollywog and Frog,- four of your tutorials, and plan to get more. Your work has become a real inspiration, as has your attitude in your videos and on your blog. I'd like to create some short eBooks for my class, and ultimately make a story book for my wife ( its our ten year anniversary this year).

Your gallery is my daily visit to encourage me to draw more and raise my game.

So, thanks, Will. I stumbled across you whilst Googling YouTube videos about drawing on the iPad. And it's had a big impact in my life!

Keep up the fantastic work!
Russ

---


Dear Friends,
You don't know how much we love getting this kind of feedback. We are so glad you like the courses and wish you all the best success. Best, Will & Wayne