Be inspired and get creative as fun-loving artist Lyric Kinard guides you through the basics of beaded embellishment on cloth. She will show you how to make straight or curved solid lines, how to split or join them, or simply add one bead at a time. You will learn how to cage a beautiful cabochon, or get silly and have fun with stacks, the perfect finish for your favorite funky flowers. Are you a quilter? Foil the quilt police and learn to bead from the top of a finished quilt with no knots or mess on the back!


Course Sections and Times:


| | |
| --- | --- |
| 1. Welcome and Hello: (2:00) | 2. Materials: beads, needles, thread and supports (9:40) |
| 3. Seed Beads: dots, straight lines, curved lines, corners, joins and splits ( 18:39 ) | 4. Bugle Beads: singles, lines and fans ( 10:37 ) |
| 5. Chunky Beads: options for hiding the thread (5:15) | 6. Stacks: short or tall, funky stamens for flowers (22:40) |
| 7. Cages: beaded bezel for a cabochon (17:37) | 8. From the Top: working on a finished quilt top (10:13) |


Lyric Kinard
Beadcraft artist

Sample image from the course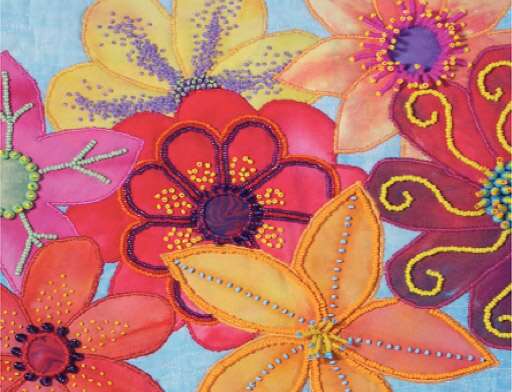 How to purchase the course:
You can pay using PayPal or with a credit card. After you purchase the course, you will be emailed instructions on how to create your account and view your course.
Supplies for this course:
• Seed beads, size 6, 11, 15
• Bugle beads
• Chunky beads
• Cabochon (big flat bead with no hole) or button with no shank
• Nymo or Sylamide beading thread to match your beads or background fabric.
• Size 11 applique' needle (I prefer Foxglove Cottage straw needles because they are longer)
• Fabric or finished quilt top.
• Batting, felt or heavy craft interfacing
• Fabric scissors
• Small shallow container to keep beads in (breath mint tins work well)
Optional Supplies
• Needle threader
• Thimble or rubber finger from an office supply store
• Lamp or magnifying lamp