Learn To Draw Cartoon Zombies
This is another great tutorial by Justin Cook! These videos will teach you how to draw creepy zombies using Adobe Photoshop and a wacom tablet or Cintiq monitor. Watch Justin as he begins by drawing each of the five characters and shares tips that you'll only hear from a professional illustrator. The techniques he uses to "ink" can be appreciated even by professionals who might want to learn how to work digitally. Justin combines the pressure sensitive brush tools and the pen tool to paint a beautiful layer of "ink" with an emphasis on line variety. Finally you'll learn how to use dedicated layers to add color and value. Approx run time 2 hrs 48 min. Ages 15 up.


Course Sections and Times:


1. Sketching the zombies in Photoshop (83:35)
2. Inking the zombies in Photoshop (51:22)
3. Colouring the zombies in Photoshop ( 43:21)


Justin Cook
Illustrator
Artist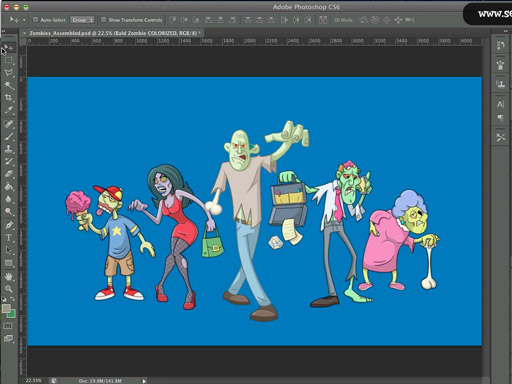 How to purchase the course:
You can pay using PayPal or with a credit card. After you purchase the course, you will be emailed instructions on how to create your account and view your course.