Digital Painting in Photoshop Part 2
This is the second (part 1 is here) video tutorial by Will Terry using Photoshop CS5 that demonstrates how to take a sketch to finished piece step by step. In this course award winning illustrator Will Terry picks up where he left off in his first Photoshop series with a brand new image. You will be able to see all of Will's settings from brushes to opacity levels while he works his way through the digital painting all while discussing the decisions he's making along the way - and why he's making them. ages 16 up. Approx run time: 3 hrs 45 min.


Course Sections and Times:


| | |
| --- | --- |
| 1. Adding value and background color (32:38) | 2. Laying in warm and cool (37:04) |
| 3. Trial and error in picking colors (32:37) | 4. Adding details and changing the color on the fat cat (26:07) |
| 5. Painting the crown and details throughout the image (43:53) | 6. Finishing up (56:09) |


Will Terry
Children's book Illustrator
University Teacher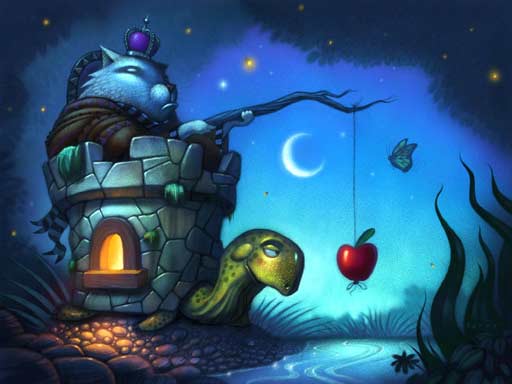 How to purchase the course:
You can pay using PayPal or with a credit card. After you purchase the course, you will be emailed instructions on how to create your account and view your course.